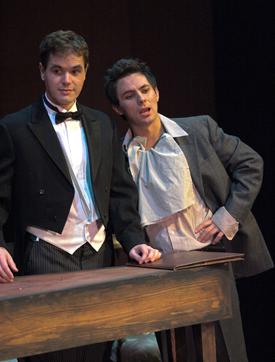 Alvaro Rodr'guez and Pablo Henrich perform in the Teatro de la Luna/Opera Theatre of Northern Virginia production of "Bohemios," now on stage in Arlington.�� (Photo by Raymond Gniewek)
Staff Writer
Collaborations can be special things. Consider the first time Mr. Chocolate met Ms. Peanut Butter - that was something special.
I wouldn't necessarily put the collaborative efforts of Teatro de la Luna and Opera Theatre of Northern Virginia at the absolute top of the list, but there's no question that the new production of "Bohemios" ["Bohemians'] is a creative leap forward for both organizations.
It is Teatro de la Luna's first musical, teaming the troupe with a very solid musical ensemble. And, on Saturday night when Teatro's Mario Marcel and Opera Theatre's John Edward Niles stood on stage to accept the accolades of the large crowd, it seemed that the gamble had paid off.
Written in 1904 by Spanish playwright Amadeo Vives and augmented by lyricists Guillermo Perrín y Vico and Miguel de Palacios, "Bohemios" is a lighter version of Puccini's "La Boheme," a version in which "no one gets sick, no one dies and everyone lives happily ever after," as the playbill says.
Running about two hours, the show sprints along during the first act (which itself lasts only about 40 minutes), then lags just a bit in the second. But it is in the latter portion of the show that the characters get fully developed.
Our leads are Roberto and Victor, two struggling writers trying to put together an opera in Paris, and Cossette, the daughter of their neighbor, whose beautiful voice manages to distract Roberto from his work.
Audiences also get to make the acquaintance of Pelagia, Cossette's friend; Marcelo, Cossette's father; and Girard, an impresario who seeks to take the boys under his wing.
It's a clever, cheerful show, with plenty of humor that translates well (the performance is sung in Spanish, with English surtitles projected above the stage).
As Victor, tenor Pablo Henrich has the most opportunity to shine in the show, both in the dialogue and in a number of powerful songs. He projects confidence and humor in his role as confidante.
Tenor Alvaro Rodríguez is similarly strong as Roberto, while soprano Lisa Archibeque belts out her numbers with self-assuredness as Cossette.
Among the support cast, David Bradley, Rayanne Gonzales and Luis Wanderlinder get opportunities for spotlight performances.
(Bradley also gets credit for the translation into English, for which I am thankful.)
Niles is musical director and conductor of the nine-member orchestra, which from my mostly untrained ear did a superb job.
It's been a while since I've watched a performance in the larger Gunston I theater (Teatro de la Luna usually performs at Gunston II). It was the right size, both in audience capacity and in stage area, for the show.
Marcel's direction was, as usual, deft, despite the modest slowdown in the second act (no doubt it was the breezy first act that lulled me into thinking it would wrap up more quickly than it did).
Credit Augustín Núnez with the strong sets and costumes.
The combination of audiences from Opera Theatre and Teatro provided not just a big crowd, but plenty of enthusiastic response.
"Bohemios" continues Friday and Saturday, March 2-3, at 8 p.m. and Sunday, March 4 at 3 p.m. at Gunston Arts Center, 2700 South Lang St. in Arlington.

Tickets are $27-$35. For tickets and information, call (703) 548-3092 or see the Web site at www.teatrodelaluna.org.